¡Oferta!
Mouse Ergonomico Verto – TRUST
Solo quedan 1 disponibles
Comparar
* PROMOCION VALIDA SOLO EN EFECTIVO O TRANSFERENCIA.


---
Características
Trabaje cómodamente durante periodos más prolongados, evitando molestias en brazos y muñecas
Cómodo reposapulgares y revestimiento de goma para un agarre perfecto
Botón de selección de velocidad (1000/1600 ppp)
2 botones para pulgar: Navegador hacia delante y hacia atrás
Atractiva iluminación LED azul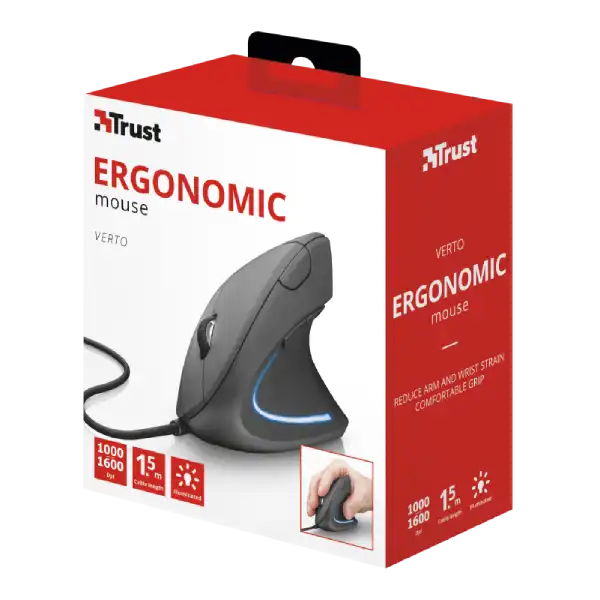 ---
Trabaje con naturalidad
Con el ratón ergonómico Verto de Trust podrá trabajar de forma ergonómica durante horas. Este ratón está diseñado para reducir la tensión en las muñecas y los brazos y ofrecer la máxima comodidad durante prolongadas jornadas de trabajo. La mano permanece en una posición natural mientras se utiliza este ratón. Elija un control y una comodidad óptimos. Gracias a su diseño ergonómico y confortable reposapulgares, puede estudiar o trabajar cómodamente durante horas en la oficina o en casa. El diseño vertical coloca el antebrazo y la muñeca en una posición natural que relaja los músculos de la mano, la muñeca y el brazo. El revestimiento de goma de este ratón asegura un agarre firme mientras trabaja durante largas horas.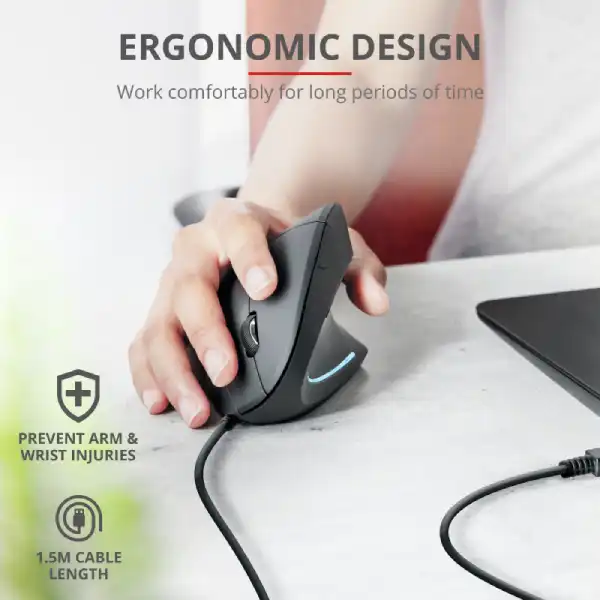 ---
Control preciso
¿Quién dijo que la ergonomía es aburrida? Simplemente conecte el ratón y consiga acceso a un sensor óptico de 1000/1600 ppp para un control preciso. Cambie de ppp mediante el botón especial o navegue rápidamente por diferentes páginas web con los dos botones para el pulgar.
---
Plug & Play
Conecte el Verto con el cable USB de 1,5 m y empiece a trabajar enseguida. Las luces LED iluminan el ratón con una atractiva luz azul.
---
Especificaciones
General
Height of main product (in mm)
120 mm
Width of main product (in mm)
63 mm
Depth of main product (in mm)
75 mm
Weight of main unit
89 g
Formfactor
large
Ergonomic design
yes
Connectivity
Connection type
wired
Cable length main cable
150 cm
Bluetooth
no
USB version
2.0
Cables included
Attached
Connector type
USB
Features
Silent click
no
Gliding pads
teflon
Software
no
DPI adjustable
yes
Special features
– DPI selection button – Blue LED light
Gaming
Designed for gaming
no
Sensor
DPI
1000, 1600
Max. DPI
1600 dpi
Sensor technology
optical
Compatibility
Compatible Software Platforms
Mac OS, Chrome OS, Windows
Compatible Device Types
pc, laptop
Control
Grip type
palm
Horizontal scrolling
no
Controls
left, mid, right, backward, forward, dpi
Number of buttons
6
DPI button
yes
Programmable buttons
no
Adjustable weight
no
Suitable surface
non-reflective flat surface
Left-right handed use
right-handed
Scroll wheel
yes
Trackball
no
Información extra
General
Número de referencia:
22885
Código EAN:
8713439228854
Contenido del paquete
Ratón
Requisitos del sistema
Windows 10, 8 o 7
Mac con procesador Intel, con Mac OS X 10.5 (Leopard) o superior
Sistema operativo Chrome
Puerto USB
* PROMOCION VALIDA SOLO EN EFECTIVO
O TRANSFERENCIA.
NB N012.09-0222-110of